Being a hostel, we are interested in hostel stuff. And our customers we suppose….

One thing that has become very topical in the hostel world is Hostelworld (pun intended). Do you use Hostelworld, Booking.com, Expedia or one of the many other online travel agents (OTAs) to book your hostel? Are you thinking about using one of these online travel agents to book this hostel? Well did you know that they actually charge a commission to the hostel for every booking? And that deposit which they take from you to give to the hostel isn't actually given to the hostel, it goes in their back pocket. Interesting isn't it?
But why should you care? Well first of all you want to be nice to the hostels which provide such great experiences to you, don't you? What do you mean that sounds nice but actually I quite like being able to view information on all hostels in an area in one convenient place? And they have reviews too which are pretty handy. Aww shucks, you don't care about us at all

Well have you ever thought about the fact that if you booked directly with the hostel then the price could actually be lower? Eh, how does that work? Many hostels increase prices slightly to cover this commission but if you booked direct then you could avoid this inflated rate. Additionally, it's far easier to cancel your booking direct and you wouldn't lose a deposit in this case. You'll notice more hostels encouraging you to book direct.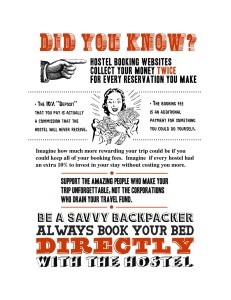 Booking direct is booking cheaper but it doesn't mean that you need to miss out on anything else which Hostelworld, or any of the other online travel agents, offers. In most cases you'll still receive a confirmation email from the hostel and often this contains far more handy info than the one sent out by an OTA. And if you're scared about missing out on any of those lovely reviews, well why not check them on Hostelbookers (more experienced travellers tend to use this site therefore the reviews are more reliable) and then book with the hostel.
So next time you book do yourself a favor (and us!) and book direct!
Cheers,
OBI Staff
P.S. Did you know that Hostelworld actually owns Hostelbookers?? Yup, we're full of interesting facts today!