Ottawa is cold, there is no escaping that fact. But if you're going to do cold then you might as well do it in style, which the city certainly does! All hail to Winterlude. What do you mean you've never heard of this before? All the cool people have….and we thought that you were cool too….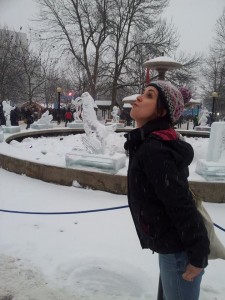 Winterlude is all out winter madness. There is skating – not only on the Rideau Canal (which for those of you not in the know, is the world's largest skating rink) but also at many free locations round the city. Another thing is the ice sculptures. Our advice is to stand next to as many as possible and take stupid pictures.
You've got loadsa other things going on too, all you need to do is check out the event schedule: http://www.pch.gc.ca/eng/1385062033147. Our favorites are building a snow fort (who doesn't like building snow forts) and spirit tasting (yup that would be of the alcoholic variety!).
Weekends come alive during Winterlude so come visit us! You've got less than a week left!
Cheers,
OBI Staff

P.S. Did we mention that we have free skates at the hostel? All you need to do is check for your size, happy days!