There's a first time for everything and today is our first time posting on the new OBI website! We only just launched the new website and we're really excited about it – gone is the old website which looked vaguely reminiscent of an ad for an old folks home and in comes this new, super-strength website.
An what can you expect from this blog? A lot of randomness with a few useful bits of information thrown in there for good measure. We'll have info about the hostel including activity nights and staff profiles, we'll have info about events on in Ottawa and we'll also have tips and recommendations from guests about how to make the most of your stay in Ottawa. Sounds good? Of course it does!
So let's get started on this glorious path of enlightenment. First stop is a bit more information about the hostel.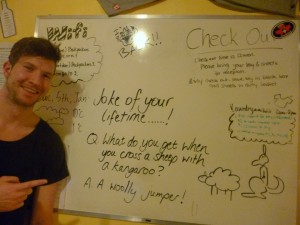 The hostel was started in 2000 by hostel stalwart Martin Jones. Born into a family of hostel owners his destiny was already decided by the time that he popped his little head into the world. The hostel has always been a relaxed place for travelers to meet each other and go and explore the city together. Staffed by groups of young travelers, there's always a mix of different nationalities and backgrounds. And always at least one person with a bad joke.
Recently, we've made a couple of changes at the hostel to make your experience even better. The check-in experience has been revolutionised – we give each guest a hammock to set up on the porch when they first get here. OK maybe we're joking but do like to make check-in a little different. You'll find out how when you get here

We've also introduced regular activity nights. These include movie nights where you vote from a choice of three movies and then get to eat the free popcorn which we make fresh. Or there are cake nights
- dependent on the staff member making it you may get a handmade
maple syrup cake or a cake bought from the Metro over the road. We like to keep everyone on their toes!
And that's it for now. Wanna know more?? The just ask!!