We've created a backpacker map with a list of our favorite activities and places in Ottawa to help you make the most of your trip here. This includes activities, food and drink places and shops.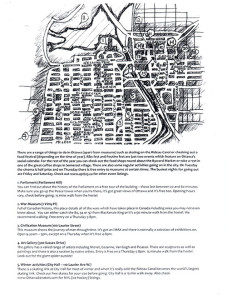 And there's something which makes this backpacker map extra special. Our guests get a discount for many of the places featured on it! And we all know that backpackers like a good deal!
Discounts offered to OBI guests:
20% off at The Tea Party – a local vegan store with a great selection of tea
15% off at 3 Brothers when you spend $10 or more – a great chance to try some extra tasty Poutine or Shwarma
$3 off any pub meal with the purchase of an alcoholic drink at Pressed – great coffee and great chicken legs!
50% off any drink (including alcoholic!) with the purchase of a meal at The Daily Grind – relax in one of the funky rooms upstairs at this chilled out cafe
Free cover at Liquor Store and the Green Room (before 11.30pm) – fun & easy club 3 mins from the hostel
Free entry at Mercury Lounge  – for the more alternative party goers
Free entry at Babylon – there are some extremely cool club nights at this venue – ask at reception about free cover
Don't say we're not good to you!
OBI Staff